A CANOPY FOR ALL WEATHERS
The Elegance is a strong aluminium canopy that has a trendy and eye-catching appearance. It features adaptable roof slats that can be opened and closed to the angle of your choice.
HIGH STRENGTH
The Elegance frame and roof slats are made from strong aluminium sections for longevity and durability and features the addition of hidden fixings.
The electronic components are sourced from the market leader Somfy, resulting in a product that lasts for many years to come.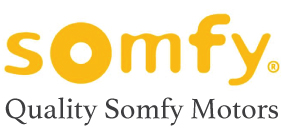 WIDE RANGE OF COLOURS
The frame can be finished in a choice of 8 colours as standard or any RAL colour at an additional cost.
ELECTRONIC CONTROL
The roof slats are adjusted electronically with the remote control supplied for convenience and ease.
100% UV PROTECTION
When the roof slats are completely closed, they provide 100% protection from the Sun's harmful UV rays as well as shelter from the rain.
The Bioclimatic Pergolas have been rigorously wind and load tested to give your customers the peace of mind they need to know that this product is built to last.
VIEW / DOWNLOAD DATA SHEET
STANDARD COLOURS – FRAME & ROOF SLATS