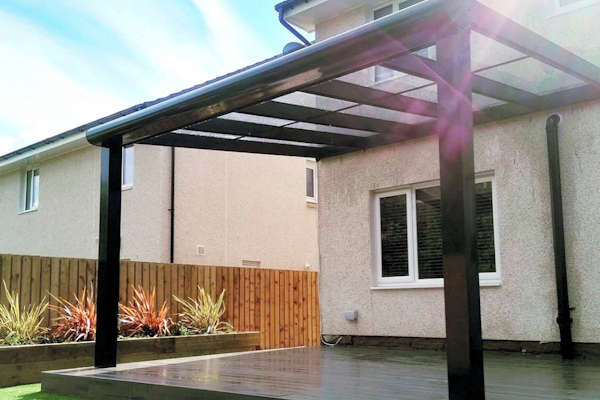 A MODERN VERANDA WITH A SOFT AND SUBTLE APPEARANCE
Ideal for Big Span Verandas, Glass Rooms and Outdoor Dining Canopies
Heating and lighting can be added to the Lifestyle Alfresco for a complete finish.
The Lifestyle Alfresco has a fresh, rounded appearance and has been designed with simplicity in mind. This sleek structure is subtle and compliments any environment from traditional and characteristic to fresh and modern.
It features an unlimited length and a maximum span of up to 6m with up to 6m between posts. This creates a structure that is made bespoke to your customers requirements and allows them to cover larger spaces, helping them to use more of their garden throughout the whole year.
The frame is made completely from aluminium which is long lasting and naturally rust resistant. All fixings are hidden within aluminium trims and the downpipes are inside of the posts and can be connected either underground or diverted to a surface drain. The guttering is integrated, creating a smooth, clean look and also minimises maintenance.
The smooth & rounded profiles of the Lifestyle Alfresco enables this structure to fit in with both modern and older style buildings, creating the subtle look that many customers may require.
The Lifestyle Alfresco can be supplied with a number of upgrades to enhance the use of the structure throughout the year and into the night such as lighting, heating, glass doors and roof blinds. Please see below for more information.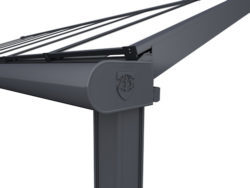 Why Sell The Lifestyle Alfresco System To Your Customers?
10 Year Guarantee – The Lifestyle Alfresco is supplied with a full 10 year guarantee and a 25 year life expectancy for the canopy frame which you can pass onto your customers.
Aluminium Frame – The frame is made completely from aluminium which is naturally rust resistant and has a long lifespan.
Available with a Glass or Polycarbonate Roof – Your customers can choose to have the roof covered with either 8mm toughened glass or 35mm structured polycarbonate to fit in with their desired appearance.
Toughened Glass – The 8mm glass roof panels are toughened during manufacturing and achieve Class 1 BS EN 12600 for impact performance.
Robust Polycarbonate – The 35mm structured polycarbonate roof panels are vandal and shatter resistant.
Low Maintenance – All roof options are low maintenance, particularly the glass, which means less cleaning is required, saving your customers time and money. The frame is made from aluminium and requires less maintenance than opposition structures such as those made from PVC and the guttering is integrated and therefore requires less maintenance too.
High Light Transmittance – All roof options offer a high light transmittance, keeping the area underneath well-lit with natural light.
Unlimited Length – The Lifestyle Alfresco can be made to any length to suit the requirements of your customers.
Up to a 6m Projection – A massive 6 metre projection enables the Lifestyle Alfresco to cover larger areas making it ideal for socialising and carrying out hobbies.
Simple Fixing System with Minimal Parts – The Whole Simplicity Alfresco range has been designed with ease of installation in mind, making it easier for your installation teams to fit saving time and money.
Integral Aluminium Guttering with Easy-Fix Profiles – The integrated guttering creates a sleek, modern appearance which is stronger than external guttering systems and also means all cabling from extras such as lighting is hidden from view.
Available in any RAL or BS Colour – The aluminium frame can be supplied finished in any BS or RAL colour, enabling it to fit in with any building colour scheme.
Optional Extras – The Lifestyle Alfresco veranda is available with many upgrades including integrated lighting, heaters, roof blinds (screener veranda) and glass doors, please see below for more information.
Infrared Wall Mounted Heaters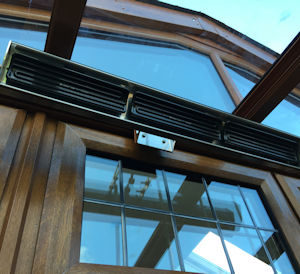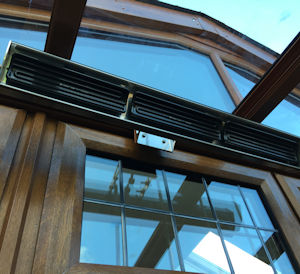 Wall Mounted Infrared Heaters can be added to the installation to enable the user to enjoy being outside even on colder days whilst keeping warm with a subtle glow of heat.
They are fitted to the wall of the adjacent building and provide an ambient heat underneath the veranda.
Find out more about Infrared Wall Mounted Heaters
Integrated
Lighting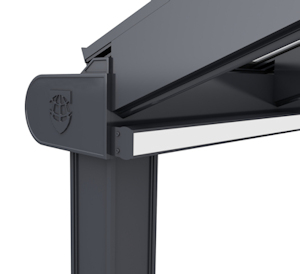 Integrated lighting can be added to enable use into the evenings, perfect for when a party is going well but dusk starts settling in.
The lights are fitted within the profiles of the frame with an easy clip on system. All cables are hidden within the frame.
Find out more about Integrated Lighting
Screener Veranda
(Roof Blinds)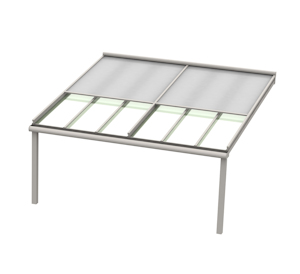 The Screener Veranda can be fitted to the roof of the Lifestyle Alfresco to create added shade and a duller light underneath the veranda on bright, sunny days.
They also make the area underneath cooler and much more comfortable during the height of summer.
Find out more about the Screener Veranda
Glass Room
Upgrade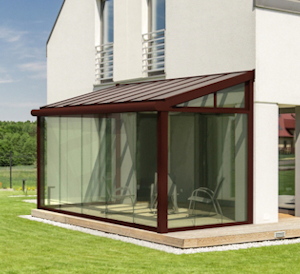 The glass room upgrade is available with the Lifestyle Alfresco to completely enclose the structure, creating a glass room with a full view of the surroundings.
The upgrade features sliding doors that are lockable enabling furniture to be stored safely all year round.
Find out more about the Glass Room Upgrade
Information on the design load and maximum span limits is available on request.
These are general calculations. Please refer to the SNOW & WIND Calculation table for each system to determine the requirements for each Canopy/Carport and Veranda sold.
Spacing Between Posts
Projection: Up to 6m = Spacing of 6.0m
Glazing Bars Spacing
Projection: Up to 6m = 800mm Spacing