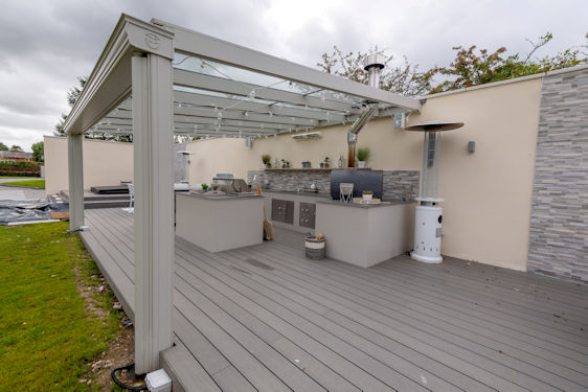 AN INNOVATIVE SYSTEM CREATING A UNIQUE OUTDOOR SPACE
Ideal for Big Span Verandas, Glass Rooms and Outdoor Dining Canopies
Add heating and lighting to your Traditional Alfresco for the complete finish.
The Traditional Alfresco is a stunning addition to our veranda range and with its massive 6 metre span between posts, it means that your outside view is never compromised.
We have worked closely with a leading designer in the glazing industry to create an innovative and truly stunning system that will enhance and add value to your home allowing you to be sheltered and comfortable in your garden whatever the weather.
The roof can be glazed with either 8mm toughened glass or 35mm polycarbonate sheet. Glass roofing offers improved acoustic properties reducing the noise of rain during a downpour as well as providing a sparkling finish which is easy to maintain.
Our innovative all aluminium system features easy-fix clip on profiles that give a stylish and modern look. They also mean that any cabling for additional extras such as lighting, heating or even a sound system can be hidden from view with no unsightly trailing cables.
The Traditional Alfresco is the perfect solution for creating a unique and practical outdoor space for garden parties, barbecues and all kinds of family and social events all year round.
With a span of 6 metres between posts and an unlimited length, you will have a solution that can be adapted to suit your exact needs.
The Traditional Alfresco comes with a 10 year guarantee and 25 year life expectancy, is available in any RAL or BS colour and with optional extras including lighting and heating, it will be an investment that will enable you to enjoy your outdoor space to the full as well as adding value to your home.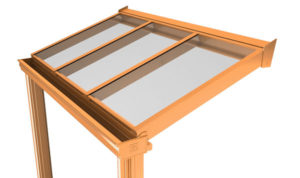 Why Sell The Traditional Alfresco System To Your Customers?
Full 10 Year Guarantee – The Traditional Alfresco is supplied with a full 10 year guarantee and a 25 year life expectancy for the canopy frame
Choice of Glass or Polycarbonate – Choose to have the Traditional Alfresco covered with either 8mm toughened glass or 35mm polycarbonate
Toughened Glass – The 8mm glass panels are toughened during manufacturing and achieve Class 1 BS EN 12600 for impact performance
Polycarbonate – The 35mm structured polycarbonate is vandal and shatter resistant
Low Maintenance – All roof options are low maintenance, particularly the glass, which means less cleaning is required, saving you time and money
High Light Transmittance – All roof options offer a high light transmittance
Available Projections – A massive 6 metres
Simple Fixing System with Minimal Parts – For a simple and speedy installation
Integral Aluminium Guttering and Easy-Fix profiles – Creates a sleek, modern design which is stronger than external guttering systems and also means all cabling is hidden from view
Wide Range of Colour Options – The aluminium frame can be finished to any BS or RAL colour
Infrared Heaters – Add Wall Mounted Infrared Heaters to your veranda to create a warm and cosy atmosphere
Lighting – Add stylish, efficient lighting for the complete finish, maximising the use of your canopy or veranda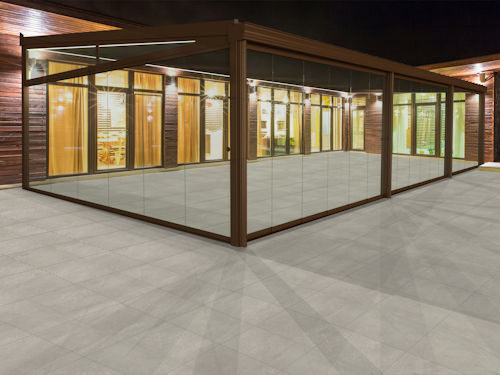 The perfect partner for sliding glass doors – Sliding glass doors can be easily added to create a completely enclosed outdoor room.
Information on the design load and maximum span limits is available on request.
These are general calculations. Please refer to the SNOW & WIND Calculation table for each system to determine the requirements for each Canopy/Carport and Veranda sold.
Spacing Between Posts
Projection: Up to 6m = Spacing of 6.0m
Glazing Bars Spacing
Projection: Up to 6m = 800mm Spacing