This installation was carried out by SMS Canopies & Blinds. They were invited to tender for a canopy of
17m x 6m at St James-the- Less Roman Catholic Primary School in Rawtenstall. Here's Dave Scully to tell us about this project:
"The first obstacle that we had to overcome was the limited headroom we had to work with, even at a 5 degree pitch the canopy would have been too low at the gutter end.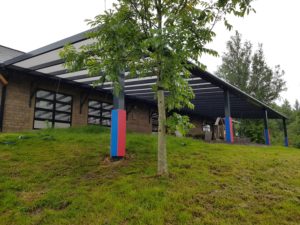 We overcame this by fabricating brackets that projected beyond the 800mm soffit and up in front of the existing gutter, 10 brackets in all, to which we fitted a 200mm x 50mm aluminium box section along the entire length to create a surface that we could fix our canopy on to.
The second obstacle to overcome was the surface, a very expensive soft play area that the school wanted to preserve as much as possible.
The solution to this came in the form of the Alfresco canopy and the massive 6m span between the legs, the surface was carefully cut away and re-fitted around the legs once they had been concreted in.
A smaller canopy was fitted alongside to provide cover to the walkway for the teachers, this was powder coated in the same matching RAL 7016 and complemented the main canopy perfectly.
In all the two canopies with the fabricated brackets created an overall coverage area of 23m x 7m, a very impressive structure and it is fair to say the school were very impressed with the end result."
– Dave Scully, SMS Canopies & Blinds
Download our brochure to view our full product range: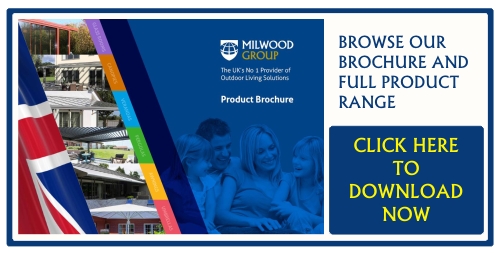 Follow us on our social media accounts to keep up to date with our latest news & offers:
Twitter | Facebook | Google Plus | Linked In