Our regular newsletter keeps you up to date with developments at Milwood and our products. It also gives you practical and proven tips and guidance on how you can improve your marketing activity to increase sales. You will find previous editions and all their profit generating information here.
Click the buttons below, to read and save our newsletters!
Find out how you can get your hands on the much anticipated Milwood Marketing Matrix

Discover our latest products: The Simplicity Xtra and Relax Sound outdoor speakers

…And not one, but two installations of the month!
How CBV installers added £656,956 to their sales

A rise in popularity in the Simplicity 16

The launch of our aluminium decking at the Futurescape show

Check our this months' featured Trade Partner installation
Lifestyle and Traditional Alfresco Sale

How CBV Installers Added £656,956 in Sales

Installation of the Month: Kitchen Pergola
Our installations of the year – did your company feature?

Discover our new online quoting portal

Updates to the Simplicity 16

Your 7 Step '12-Month' Internet Marketing Plan
How to advertise with Facebook

New order forms and online quoting portal

Installation of the month

Receive additional discount for your home
Booming Success at the BBSA Show

Simplicity Extra- Coming soon
New marketing material available to download

Our new range of artificial grass to complement our verandas

This month's marketing tips to increase sales

Our Trade Partner installations of the month
Milwoods business growth book of the month

Details of the expansion of the Milwood Academy

The launch of the Mini 90

Our latest impressive reseller installations
Free installation training up for grabs

Three ways to improve your 'top' marketing

A brand new contemporary solution

Making way for blue glass (the new clear)
New Unbranded Brochure Now Available

How one word in SEO resulted in a £43,000 contract for an Essex company

Latest Trade Partner installations in pictures

A new colour has been added as standard
First look at our brand-new brochure

How you can sell more via the free Google Map feature

New Pavement Banners now available

View our 'showroom on wheels' and find out how you can win some bubbly and luxury chocolates
Warning: Don't download this newsletter if you don't want to give yourself showroom envy

Marketing Insight: The only 3 ways you can grow your business

A Totally Wicked installation
Find out how you can get your hands on the complete showpiece package

The first Simplicity 6 Glass Room installation

An important pricing update

Some festive rhymes, recipes and facts to get you in the Christmas spirit
New carport & veranda accessories: Infill panels

Improvement marketing part 3

How our structures withstood Storm Ophelia
What it's like to be a Milwood trade partner

How to use Facebook to grow your business

Find out how awnings are the ideal product for commercial applications

New fixed glazed panels for the Simplicity range of products
The Perfect Pairing: Bi-Fold Doors and Verandas

Improvement Marketing Part 1
The Simplicity 6 keeps getting better!

Reasons to buy an awning

Marketing Focus – Free Mail Chimp account and using email to grow your business

Pro Builder Mag installation guide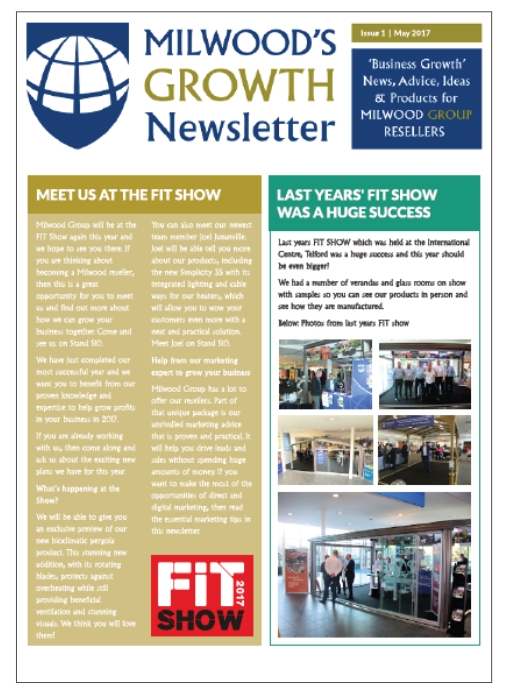 Success at the FIT Show

New Bioclimatic Pergolas

Our Screener Veranda is a big hit!

Marketing Focus – growth in uncertain times
If you have any questions or would like to speak to one of the team, call us on 0333 305 5272