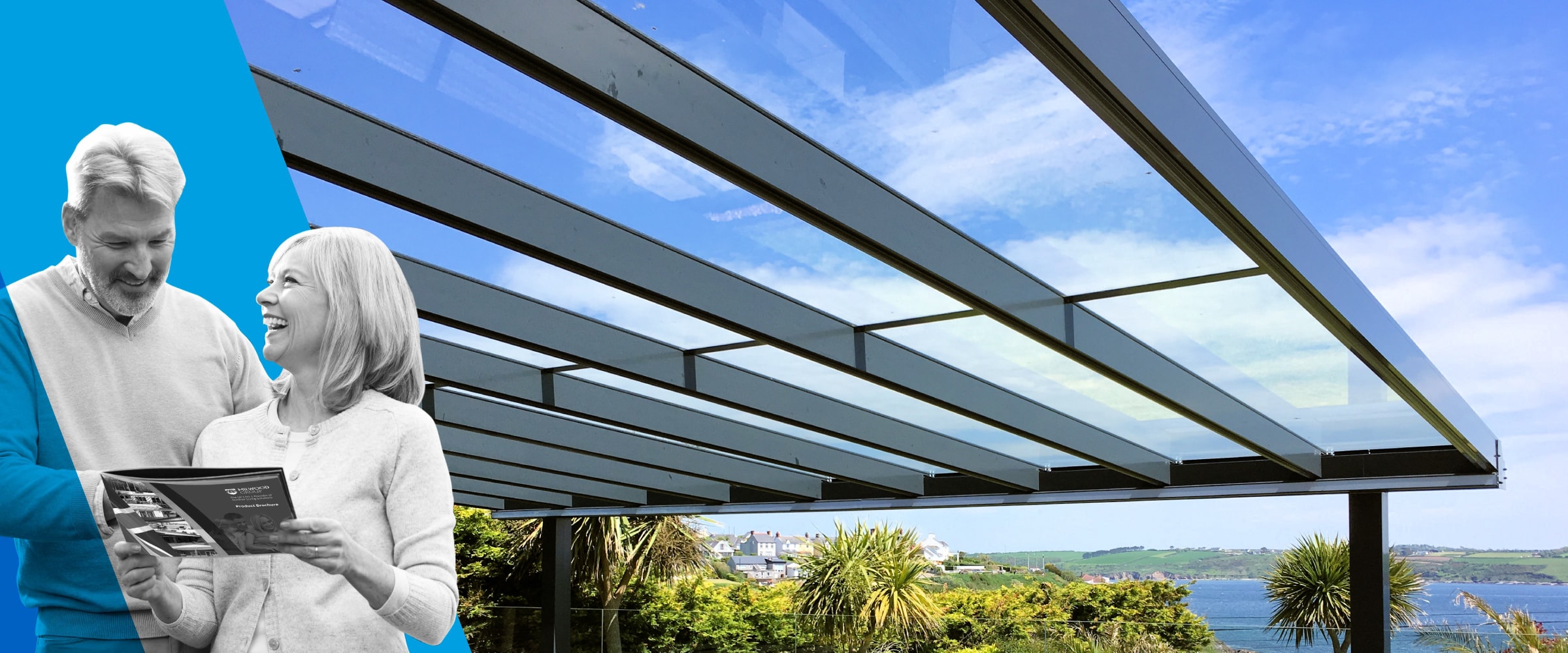 Our Aluminium Verandas Are Affordable, Functional & Stylish
Video: Verandas Information & Becoming a Trade Partner
10 Years Guarantee: Our Verandas are manufactured in the UK to the highest possible quality & standard

Made For Trade: Easy to price, easy to sell, easy to install & easy to become a trade partner – apply today!

Designed For Homeowners: Enjoy your patio & garden all year round with friends & family. Perfect for outdoor dining, entertaining or relaxing & increase the value of your home
"I wanted to write & compliment you & your company. Very rarely does one come across a properly structured organisation like yours. Well done! We hope we can do justice to you"
Martin Green, Living Spaces Direct
(Trade Partner)
Having updated all of our windows and created an area for bi-folding doors, we were looking for a veranda to let us use the garden area all year round and bring the outside in. We didn't want a traditional looking veranda so when we saw the contemporary alfresco, it suited the house perfectly. Having an unimpaired view from the bi-folding doors was really important and the 6m post span is perfect. We use the space for entertaining in the summer months but as we are quite near the coast, protection from the wind was important. The sliding doors work so well and maintain the uninterrupted view of the garden and coastline.
Our verandas, structures and kits are perfect for any building. They are available in unlimited lengths, which means you can create a cover or shelter along the whole length of a building; providing year-round protection so you, your customers, friends, family or visitors can enjoy the outdoors, whatever the weather.
Our verandas are ideal for domestic homes, or commercial properties, such as care homes, schools, shared buildings or apartments. Veranda canopies can protects against UV rays and are they are also completely waterproof, keeping everyone dry and sheltered.
We have lots of options in our Alfresco and Simplicity Ranges, with lots of options to create a Victorian, Traditional or Contemporary look and feel. All of our verandas can be coloured to match any RAL colour.
Increase your revenue by selling our easy to install aluminium veranda kits and you will make more money, because your customers will love our verandas, which means they will also recommend you to their friends, so you'll sell more verandas over time.
It's free to become a Milwood Group trade partner, so why not join us today and take advantage of our easy to price systems, which come complete with instant pricing tables, so quoting is also much faster.
We have free marketing material that you can use to make the right impression with your leads and customers, and your will also receive free installation training, once you place your first order.
If you want to maximise your profit, we also have a range of upsell options, including heating, lighting, Victorian style base casting and gallows bracket, glass room upgrades and more.
Our higher profit margin veranda kits will help you earn more more, working less hours and you will generate more revenue from your existing customers, when you add verandas to your range of products.
You will also be able to up-sell your existing products to any new customers you generate from adding verandas to your range, so your sales will multiply over time.
So why wait? Start selling high quality glass rooms today. It's free to become a Milwood Group Trade Partner, just get touch to get started.
WHY HAVE A VERANDA INSTALLED?
Extend Your Living Space: A veranda can create extra living areas for you to enjoy all year round especially when used with the added extras such as heaters and lighting to further enhance your outside space
Shelter from the Weather: As our verandas can be used whatever the weather, you can enjoy the outside area even in wet weather instead of grabbing an umbrella to stand under
Additional Home Storage: Veranda offer a handy solution for storing outside products and furniture, protecting them from various, issues such as bird droppings, tree sap, snow, rain and UV rays that may cause fading damage to their products
Increased Property Value: A high quality structure installed at your home will add value to your property in the future when they decide to sell
Provide Free Flow: Verandas installed at your home, can help create a 'free flow' making it easier to move in and outside, especially during bad weather, such as rain or showyou're your space under the veranda will not become dirty or wet in the same way.
Keep The Bins Clean: Maybe you are fed up with keeping your Rubbish Bins or Recycling Bins indoors, if so, then why not keep them clean and dry under your veranda, which means you will have less 'smelly' or unsightly bins indoors, giving you more space in your kitchen or conservatory for example.
Extend Your Party Time: Outdoor parties are very popular especially during the summer but the weather can never be guaranteed so having a veranda fitted will ensure that the rain will not ruin your parties, or indeed if it's too hot as your veranda can provide shade when it's just too hot to be out in it. So a shaded and sheltered veranda area will help to keep your party atmosphere rocking
Keep Home Carpets & Flooring Clean: Verandas are especially useful, during times when it's wet and muddy and you have to wear your boots outside; you can simply slip your boots off under the veranda before entering the house, thus keeping flooring clean and you don't have to worry about your boots getting wet inside, as they will be protected by the veranda
UV Rays Protection: Depending on the roof choice you decide, as mentioned previously, the roofing on our verandas have a high UV protective filter, which will protect you and your family during the hotter months of the year – ask for details when you speak to your local trade partner.
Enjoyment for All You Romantic Star Gazers: The toughened glass roofing panels on the verandas we manufacture, make it easy to see the stars during the evening and makes for a romantic Al Fresco meal outside, under a romantic starry night
Encourage Bird Watching: If you are a bird lover, you will no longer need to hide indoors to watch the birds, you can set yourself and your camera up, on your patio underneath your veranda and benefit from the protection and shelter of the veranda, so you can spend more time enjoying your bird watching all year round
Prolong Your Timber Decking Life: Having a veranda installed above your timber decking patio areas will help to prolong the life of the timber decking, so you will not have to replace your timber decking as often in the future, and as an extra benefit, because less dirt, dust and rain will be on the surface of your protected decking, it will be less slippery and require less cleaning and maintenance, saving you money.
Enhance Craft Time: You can enjoy more craft time, with your children or grandchildren, under one of our verandas, without worrying about any messy play that lands on the floor, lke you would if you were 'crafting' indoors. So no more stained carpets or panic fits when something gets knocked over or dropped. You can enjoy your crafting outdoors, all year round. You and your crafting material will be protected from sudden downpours and you will also be protected from the sun's UV rays
Work from Home Outside: If you work from home, it can sometimes be nice to get away from your desk, but keep working outside, this can be achieved with a veranda. You can set up your laptop, ipad or paperwork, and work freely outside enjoying the fresh air under your veranda, whatever the weather and with our Screener Veranda upgrade, you'll be sure to get the perfect light and heat balance too, during the hottest parts of the day
Keep Gardening All Your Round: Whatever the weather is doing, your gardening can continue, under your veranda, so you can enjoy planting up new seeds, re-potting plants or doing other gardening jobs under your veranda, that you might otherwise have done in a shed, so get some fresh air and enjoy your garden all year round.
Peace of Mind is Guaranteed: Because our veranda are guaranteed for 10 years, with an expected life of 25 years, if you use one of our verandas, you will have complete peace of mind that you're using a reliable and long lasting product, that will last for many years to come
If you would like to place an order, give us a call and we will put you in touch with your local, trusted veranda installer
The Milwood Group manufacture and supply the highest quality outdoor living verandas to both large and small companies within the home improvement and the fenestration industry. If you are looking to buy one of our products, we will pass your details on to one of our trusted local trade partners.
If you are interested in selling our verandas, get in touch with us today to discuss how to get started – it's free and easy! With over 25 years of experience within the industry, we can provide you with specialist knowledge and competitively priced products suited to any requirement.
Our customers include manufacturers and installation companies who wish to provide their commercial or domestic customers with high quality, yet cost conscious shade and shelter products.
As part of our service for trade partners, we offer easy to follow installation guides, downloadable marketing material for your sales team and technical drawings for Architects and Designers to make specifying our products simple. We have also developed an App, which is available to download free from the app store.
The all new Alfresco Veranda Range consists of 3 very different looking structures to compliment any surrounding. Whether it's traditional, contemporary or something a little more subtle, the Alfresco Range really does have it covered.  All veranda structures are available with integrated LED lighting, heating, the glass room upgrade and hidden fixings.
All systems within the Alfresco range have the option to span a massive 6 metres from post to post which means that the view is never compromised. We have worked closely with a leading designer to create an innovative and truly stunning range of systems that will enhance and add value any home, creating a more sheltered and comfortable garden space, whatever the weather.
Alfresco veranda structures can be glazed with either 8mm toughened glass or 35mm polycarbonate sheets. The glass option offers improved acoustic properties reducing the noise of rain during a downpour as well as providing a sparkling finish which is easy to maintain. Like our other systems they are made completely from aluminium for ultimate longevity.
Alfresco features easy-fix clip on profiles that hide fixings and downpipes to give a stylish and modern look. This also means that any cabling for additional extras such as lighting, heating or even a sound system can be hidden from view with no unsightly trailing cables. Each system can be manufactured to an exact size to suit requirements and can be polyester powder coated to ANY RAL colour.
The Alfresco is supplied with a 10 year guarantee and a minimum 25 year life expectancy and many optional extras. The 3 systems on offer are the Contemporary Alfresco with its clean minimal looks, the Lifestyle Alfresco with its rounded face soft finish and the Traditional Alfresco with its ornate gutters, clip-on claddings and stunning high end finish.
The Simplicity range of solutions have been designed with quality longevity and speed of installation in mind. We have developed these systems to be completely made from aluminium so that they last the rigorous of the British weather.
Our Simplicity verandas can be glazed with either glass or polycarbonate so that you can be assured they can meet most budgets. We place a lot of importance on keeping things simple and quick to install (hence the name) this means these products are really simple for your clients to maintain.
Having a range of options is also important so that customers can enhance the experience by adding upgrades like lighting, heating and additional protection from the elements. The Simplicity system is our most cost effective solution, which is both quick and easy to install.