Having a roof without a block edge finish simply means that your sheets are cut from larger 2.1m wide sheets; with a block edge you get a hard edge on both sides of the roof sheet giving you a much stronger roof system that will provide improved snow loading capabilities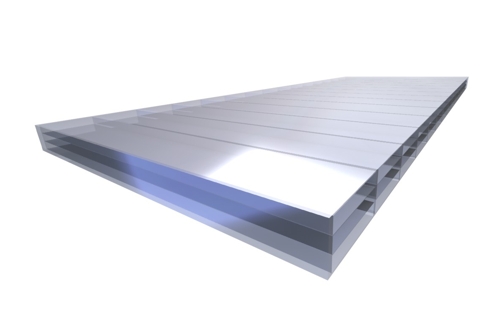 Block Edge – This polycarbonate is not cut to size and is manufactured in the size ready to be installed to the canopies. This means that the edges are sealed and it also gives you much stronger roof sheets.
Insulation Properties – Our 35mm structured polycarbonate sheets offer the best insulation properties available (1.2w/mk).
Fire Performance – Our polycarbonate panels benefit from excellent fire performance, meeting BS476 part 7 class 1, EN13501 and B-s1, d0
High UV Protection – During manufacturing a layer of UV absorber is coextruded on the outer surface of the roof panels which prevents damaging UV radiation from penetrating the sheet, and protects those underneath from the sun. UV protection also prevents yellowing and loss of strength to the panel – giving it longer life.
Light Transmission – These polycarbonate panels allow high levels of natural light to show through the structure. The light transmission differs with the colour of the polycarbonate. Clear panels offer 64% light transmission and opal panels offer 33% light transmission.
Temperature Resistance – The polycarbonate can be installed in a range of environments with varying temperatures because it is known to remain stable in prolonged conditions in temperatures ranging from -20°c to +100°c.
Impact Resistance – The polycarbonate has a high impact resistance and is approximately 200 times more resistant to impact than glass.