Case Study – Domestic Installation, Wiltshire
Product: The Simplicity 16 Garden Canopy
Size: 4.5m x 2.3m
Frame Colour: Black
Optional Extras: Decorative Gallows Brackets
Polycarbonate Colour: Clear
Installation Date: February 2014
Service: Supply & Install
In December 2013, a domestic customer contacted us for a quotation as they were looking into having a garden canopy installed at their property in Swindon, Wiltshire. The customer was unsure of the size required to begin with so we sent them two quotations as requested. One for a 12m x 2.5m Simplicity 16 and another for a 5m x 2.5m Simplicity 16.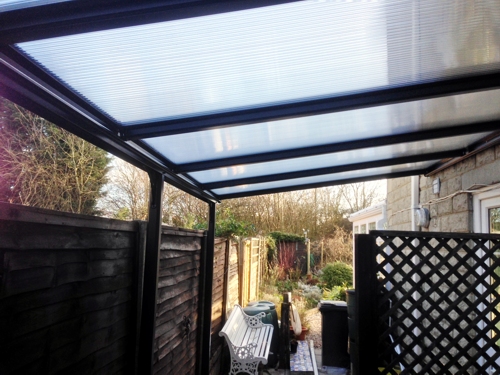 The customer decided to go with the smaller canopy (5m x 2.5m) and asked if we could powder coat the frame in jet black and add decorative gallows brackets to the top of the posts to create a traditional appearance. This was all possible and a new quotation was sent out.
A site survey was completed to ensure that the customer's home had a suitable wall to fix the garden canopy to and to check that the size required would be suitable.
During the survey it was evident that the canopy in fact needed to have a projection of 2.3m to fit within the chosen area and a length of 4.5m. The customer agreed and in January 2014, they placed an order for a 4.5m x 2.3m Simplicity 16 Garden Canopy finished in Jet Black with decorative gallows brackets and clear roof sheets.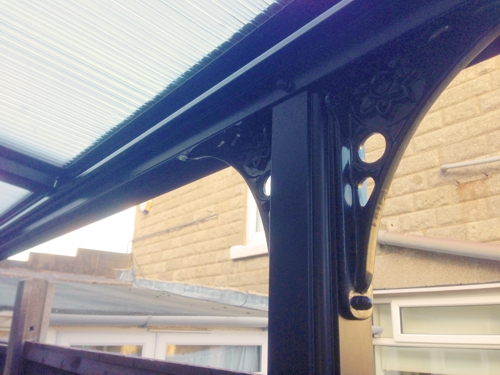 The Simplicity 16 is perfect for use as a garden canopy or carport as it provides effective protection at a competitive price. It has an all-aluminium frame, including integral aluminium guttering and its roof is made from high impact resistant polycarbonate to produce a robust and durable structure. Furthermore, due to its variable roof pitch it offers much more flexibility to where it can be fixed, and can even be fitted in areas where height is restricted, due to its low profile.
The garden canopy was installed in February as arranged within just one day and on a weekend to suit the customer's schedule.
We've been very pleased with the canopy, it's made a real difference to getting in and out of the garage without getting drowned each time it rains, and it makes a very handy work area when the weather is bad.
It looks great and the team who erected it were very pleasant, quick and tidy, in fact the service throughout has been excellent
Download our brochure to view our full product range: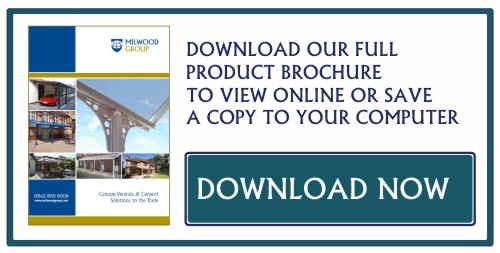 Follow us on our social media accounts to keep up to date with our latest news & offers:
Twitter | Facebook | Google Plus | Linked In