Upgrade with our heating and lighting options
Continual improvement of our systems and services is part of the Milwood commitment to our partners. To ensure that your customers can get the maximum from their Milwood system, and enjoy their outside space to the full, we have excellent upgrade products for you.
Efficient heating and lighting are essential additions to any outside entertaining or relaxation area. They help extend its use even when evenings get a little chillier and darker. These high-quality options will allow you to offer practical, profitable solutions to your customers, ensuring you build long lasting relationships with them.
Infrared Heaters
To take the chill off the evening air we have a range of infrared wall-mounted heaters. These will give customers more time outside enjoying their gardens and will come into their own for those barbecues or evening events that carry on once the sun has gone down.
Our Infrared Wall Mounted Heaters have ceramic elements that are designed to gently warm those underneath the canopy, using infrared radiation which is completely harmless and contains no ultraviolet radiation.
The high quality ceramic plates generate heat quickly and reach their full operating temperature within less than 10 minutes. Each unit is supplied with a two-year guarantee against faulty materials from the date of purchase.
These heaters are supplied in two sizes with either 2 or 3 heated elements for either medium or large heated areas
They are a stylish and practical addition to any canopy or veranda.
Size: Available in two sizes with a choice of different power outputs:
509mm x 100mm x 166mm – Choice of power:
0.8 kW (2x 400W quartz heater elements)
1.0 kW (2x 500W quartz heater elements)
1.3 kW (2x 650W quartz heater elements)
760mm x 99mm x 166mm – Choice of power:
1.5 kW (3x 500W quartz heater elements)
1.95 kW (3x 650W quartz heater elements)
Colour Options:
Black Ceramic Plates with a Black Body.
White Ceramic Plates with a Stainless Steel Body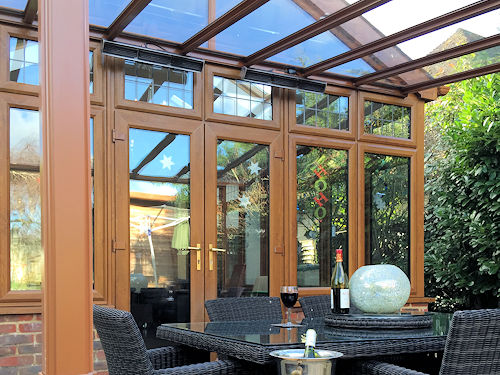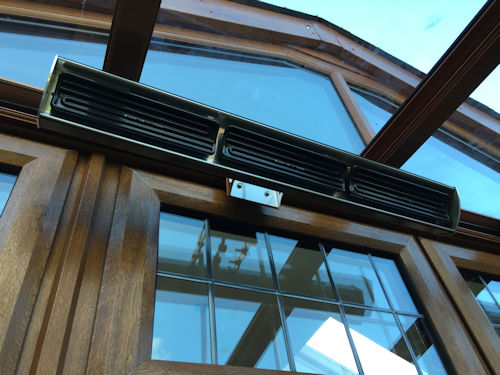 LED Lighting
For customers who like to read outside, or add some additional security around their property, then our LED lighting, that can be added to the Simplicity 6 Veranda, is a must have product. These efficient lights are incorporated in the back of the eaves beam and provide useful light for the whole space.
It's not just about reading though. These safe and reliable lighting units mean evening parties and entertaining can go on well after dark, giving your customers increased flexibility to use their veranda at any time of the year.
Combined with the heater they extend the amount of time that customers can use their outside space and therefore the value they get from their purchase.
Talk to us about these popular upgrades and how they can add profit to your projects.