Check out these four amazing installations in Anthracite Grey! We have seen the Anthracite Grey over take white as the most popular colour for the Simplicity 6 now and you can see why from these amazing installations. It suits a wide range of house finishes and works well even if the windows and doors are not grey as well. Adding the blue glass gives a very contemporary and sleek look to proceedings too! The Alfresco with blue tint by Osborn Glass was achieved by them providing a tinted film which they applied to the clear 8mm glass as unfortunately tinted 8mm is not available and it helped secure this amazing order for them. Have you thought of that to help on Alfresco jobs requiring a tinted roof? We hope that you can gain some inspiration from these images. From all of us here at Milwood, many thanks to White Windows, NGT, Osborn Glass and RH Magor Joinery Services for these fantastic submissions!
---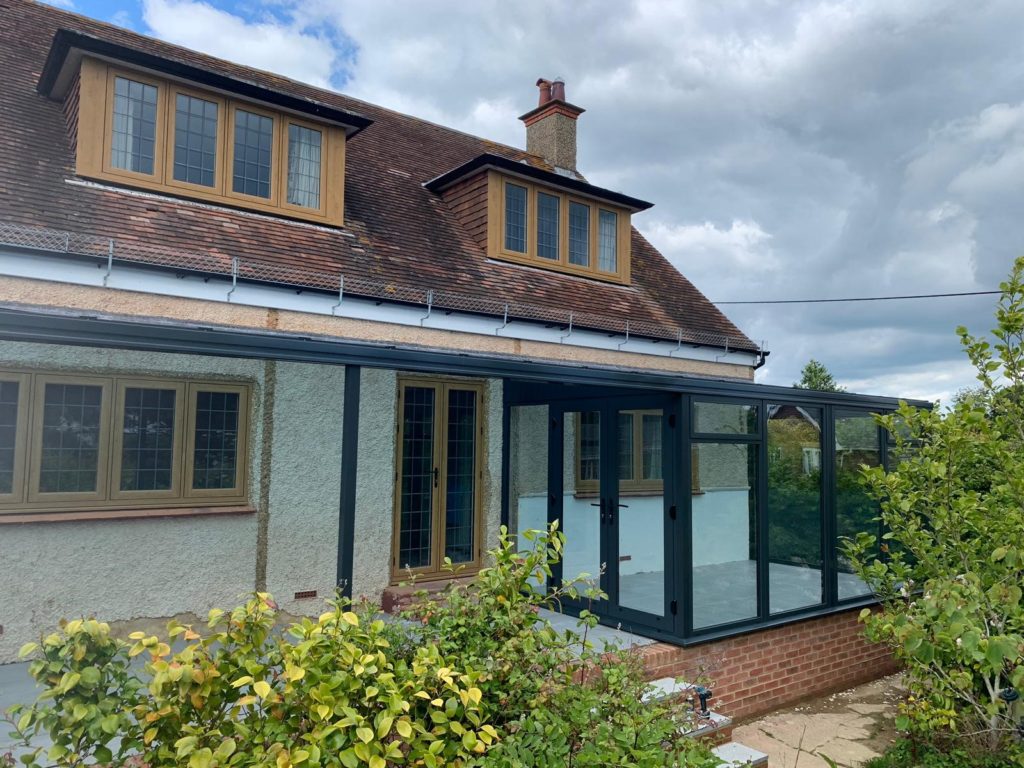 White Windows, Isleof Wight
This beautiful Simplicity 6 Glass Room was supplied and installed by our Trade Partner White Windows who are based in Isle of Wight.
Their customer had an old timber out building on the back which was falling apart. It was roughly 4000mm wide by 2000mm deep. The glass was falling out and the base was on a slant as the front had sunk. Here's what company's director Matthew has to say about this project:
"They wanted a new veranda to span the width of the house, but also have an enclosed area where they could sit if the weather was bad. We decided on 11000mm in length and 2600mm deep glass room. The problem was that because the base was so bad, we had to start from scratch.
We demolished the existing structure and excavated the footings to 1000mm deep. Build a retaining wall, then back filled it and concreted the floor to get the correct height.
We installed new fascia and gutter above the veranda, then installed gutter guard to stop any tiles falling on the proposed new veranda glass roof. We then installed a Simplicity 6 veranda in 7016 Grey with a self-cleaning solar blue roof. For the enclosed area we used Smart Aluminium frames, again in the 7016 Grey. We measured the roof and enclosed area so that the frame would line up with the roof bars, then we got hollow soffit sprayed to 7016 grey to fill in the rakes.
We tiled the floor inside and out using Hamble Nimbus from the spaces range at Topps Tiles.
Then we finished off with a couple of steps on the front
It was a challenge as we had to incorporate 2 different systems, the simplicity 6 veranda and smart aluminium frames. But the customer is over the moon with the finished product and it has turned out better than we could have hoped."               
– Matthew Foreman, White Windows
---
Osborn Glass & Windows Ltd., London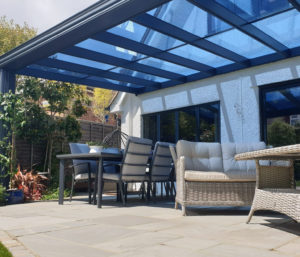 Last year (Osborn Glass & Windows Ltd) completed a refurb using aluminium windows and Patio doors, this formed a fantastic open planned kitchen dining area. The client had lived with the new windows and doors for about 12 months and asked if we had a solution to continue this space outside.
The client had a few concerns and was quite keen to construct something that tied into the property and offered several other features. Fortunately, Milwood's lifestyle range of products ticked all the boxes.
Size 6.4 x 3.7m to cover the patio area.

Few posts as possible – only required two.

Colour – had to match the existing window profiles.

Protection from UV was important.

Long lasting with little maintenance.
The UV protection was a solar reflective film Osborn's added. This was important as the client had a skin condition and could only spend a limited amount of time in direct sunlight.
"The comments we have received by the client have been great – he can now enjoy the garden for as many hours as he wants, whilst entertaining family and friends. There are many reasons to use one of Milwoods products this is just one. This has made a real difference to the client's way of living that's got to be the reason we supply and install some of the best products UK manufactures offer, I can honestly say that The Milwood Group is one of those companies."
– Danny Blundell, Sales Manager
---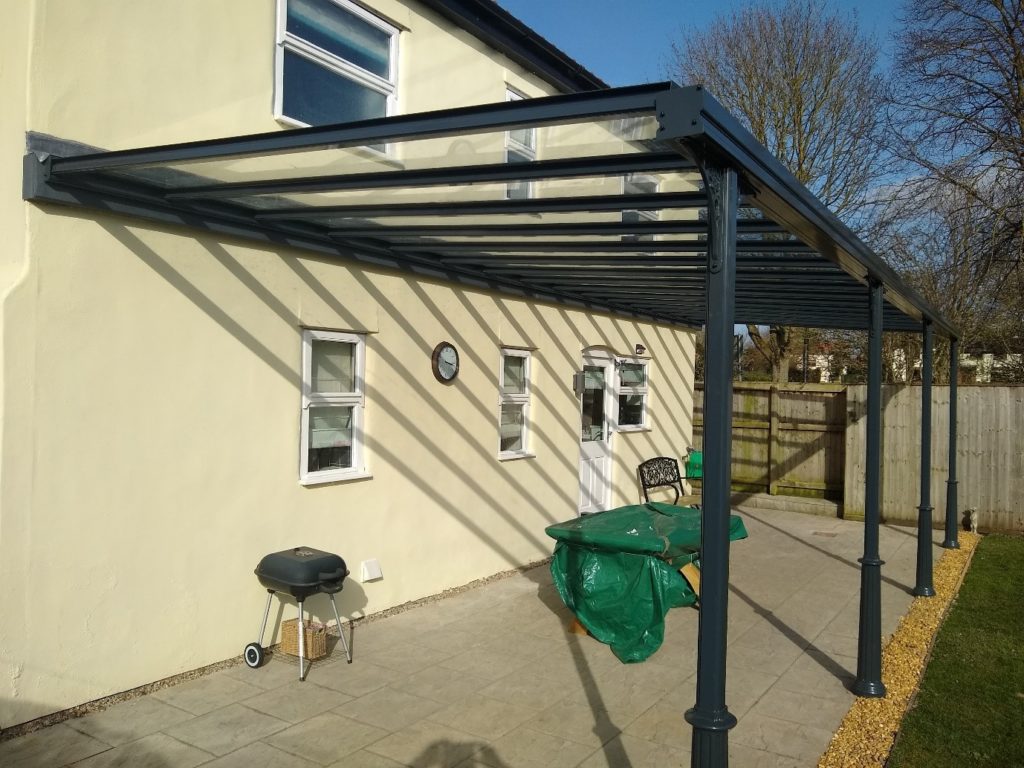 Another two installations in grey are by NGT Products Ltd.
Here's what the company director has to say about these projects:
"We recently carried out the following installation for a client that had an existing wooden canopy that had never been watertight since it was installed by another company several years ago.
What they liked most about the new structure was the quality of the product with the Victorian upgrade and our complete service offering of dismantling and disposing of the original canopy and then installing the Simplicity 6 shown below.
At NGT we like to offer what the customer requires rather than other canopy companies that very often just want to sell what's best for them. On
ce we have established the clients budget meets with their 'want' we take time to go through every aspect with them and we are willing to take on a project management approach to the project when other trades are required for groundworks , lighting etc. We can be as involved as they want us to be.
Another recent installation was at a Gastro pub in North Yorkshire where we created a valuable Alfresco dining Area for them including Glass panels between the flower beds. We would have loved to have been involved from the start on this one as we would have been able to improve the look further if we had designed and arranged for the flower beds to be built in accordance with the canopy. However, our client is absolutely delighted with the product and service from us and reports lots of compliments and use of the area creating them additional revenue as well as offering other dining experiences for their customers."
– Neil Tappin, Managing Director, NGT Products Ltd
Download our brochure to view our full product range: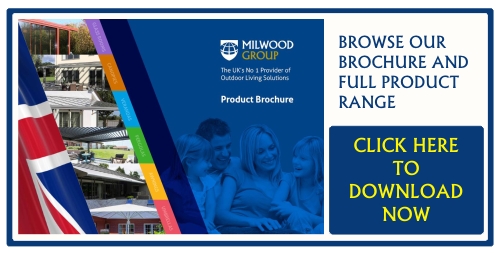 Follow us on our social media accounts to keep up to date with our latest news & offers:
Twitter | Facebook | Google Plus | Linked In