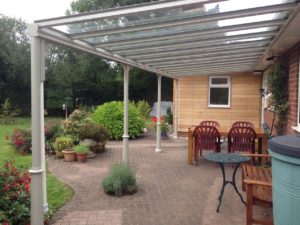 This year has brought a lot of changes for the Milwood Group! We have launched our newest Simplicity Xtra system which was presented at our stand during this years' FIT Show, and the Ali-Deck range is taking the construction industry by storm! We have been extremely busy familiarising our new Trade Partners with our product range and giving the best advice and support to our existing Trade Partners.
A move to larger premises is coming in August as the company is expanding and we pride ourselves in improving the value of our products and services. New premises will help our dedicated team to progress and carry on doing just that and will also provide a southern base for sales and installation training in the very near future.
The UK's outdoor living market is still growing rapidly hence we want our products to be of the best value and meet the expectations of our Trade Partners and their customers at the same time. After many discussions and taking into consideration all the possible pros and cons we have decided to withdraw the following products from the range:
Nordic, Palladio, Window, Heston and Pergolino Awnings
Mini 90 and Skipper 500
Umbrellas
Pavement Banners
The main reason is that we wish to focus our attention on the best-selling products that we manufacture which are the Simplicity range of verandas and carports. These products have seen a 22% increase in sales over the last 12 months.
Our new goalpost profile is now an important product in the range which allows the freestanding and oversailing design of canopies that were not feasible before. Bio-Climatic Pergola's are now a core product for us and we wanted to keep the Screener Veranda so that you have a shade option to add to the glass veranda systems that we offer.
There is still more to come but shhh… we can't give it all away yet!
It is also worth mentioning that we have been concerned about the growing uncertainty associated with Brexit – it could potentially affect the lead times and costs for both awnings and umbrellas. We will continue to honor all the existing warranty schedules for all umbrellas and awning products that were purchased from us so there is no need to worry.
The team would like to thank you for your understanding and continued support. If you have any questions please drop us a line at [email protected] and one of the team will be happy to assist you further.